---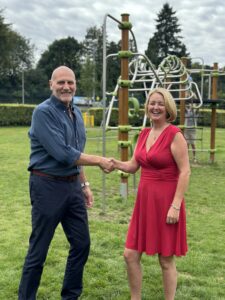 The Association of Play Industries is delighted to announce the appointment of Dr Amanda Gummer as their new Independent Chair. A psychologist and CEO of research consultancy Fundamentally Children, Amanda brings over 20 years' experience of working with children and families and is passionate about children's play.
"I'm thrilled to be on board and keen to build on the API's progress of recent years," says Amanda. "The need for children to play outdoors freely and safely has never been so important and I'm looking forward to working with our members to promote the UK play industry and to campaign for every child's right to everyday play."
Amanda replaces Mark Hardy, who steps down after almost ten years. Under Mark's leadership, the association has launched multiple play campaigns gaining national press and TV coverage, grown the API's profile and championed a diverse and representative Executive Committee.
"Amanda has a wealth of experience and will be a breath of fresh air to the industry and beyond," says Mark. "The new perspective she brings will be invaluable and I'm excited to see what the API achieves next under her leadership."
Image: Mark Hardy, outgoing Chair and Dr Amanda Gummer, incoming Chair of the Association of Play Industries
Notes to Editors:
The Association of Play Industries (API) www.api-play.org  is the lead trade body within the play sector and campaigns at the highest levels for policy recognition for play. Its members are leading manufacturers, installers, designers and distributors of both outdoor and indoor play equipment and safety surfacing. Founded in 1984, the API represents 85% of the play industry.
The API operates under the umbrella of the Federation of Sports and Play Associations (FSPA), the national trade body responsible for representing Sports and Play Associations in the UK's sport and play industries. www.sportsandplay.com
Media Contact: Mary Lubrano, Head of Communications.  For further information contact Mary on e: [email protected]  m: 07999 550452