---
---
The start of 2022 sees the launch of our much anticipated new catalogue, packed full of ideas, including over 40 new products added to our play and sports ranges. So, what are Proludic's innovative new entrants for this year?
Within our sports range, we have been working on numerous engaging sports activities for children and teens alike. Our fun and dynamic Ninja trails offer a range of structured activities for developing fitness in children and teens between the ages of 6 and 14 years.
Proludic's already acclaimed Street Workout equipment has also been much improved and the new designs have received endorsement from the World Street Workout & Calisthenics Federation (WSWCF) for their excellence. Our MUGA's (Multi-Use Games Area's) have not been overlooked as part of this year's innovations and many complementary add-ons have been developed to improve the user experience and make this equipment even more inclusive.
We have also included lots of exciting additions to our play ranges such as new challenging rope structures and combination metal/wood cableways. The release of our stylish parent/child swing is something that clients have been requesting. Designed to be easily accessible, without the need to step over a central fixing.
Rob Baker, Proludic's MD commented "Here at Proludic, we are excited to be in a position to launch our 2022 brochure and share our inspiring product portfolio with you! It contains 300 pages packed full of innovative ideas and quality equipment for our clients to choose from. Our aspiration to continue to provide fun and active play spaces have once again afforded us the luxury of being able to showcase some wonderful brand-new products for 2022 for UK communities to hopefully enjoy for years to come. Encouraging movement daily is key for all children to enjoy happy and healthier lives and so we are thrilled at the prospect of working with you to achieve this in the months ahead."
With over 1200+ pieces of play and sports equipment for you to choose from, there is something for all the community to enjoy! Our equipment is manufactured at our world-class manufacturing facility in France – keeping us reassuringly in control of our supply chain for clients!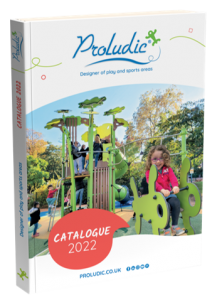 To arrange a FREE site visit or Zoom call with your Area Manager, please contact our Customer Advisors on 0115 982 3980.
To request your very own 2022 New Catalogue go to Proludic.co.uk