---
It was a year in the making, but we think it was worth the wait: the new play area we've created for Paddington Recreation Ground is now open! Designed and created alongside Ruth Willmott Associates and Westminster City Council, let us show you around one of the finest play areas in the country (if we do say so ourselves!)
Introducing Paddington
The partnership between Westminster City Council's Physical Activity, Leisure & Sports (PALS) team, Ruth Willmott Associates and Playscheme resulted in the creation of an epic project that took five whole months to build.
We were delighted to put the famed Playscheme creativity into practice on such a scale! Come with us on a tour of the playground's four main areas – infants, sensory, juniors and teens – which cater to different ages, abilities and needs.
The infant play area at Paddington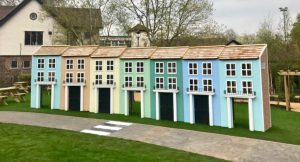 We're well used to designing bespoke play areas that keep the little ones happy, and Paddington is no exception.  After all, who can resist playhouses like these?
This is the Beachcroft Gardens terrace; seven pastel-coloured houses that hug the footpath in a suitably Instagram-worthy fashion.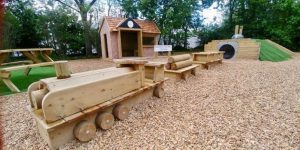 And who doesn't love playing trains? Paddington Station, made from Jesmonite brick and complete with a sign, counter and bench, encourages children to role-play. Oh, and there's a train of course! We also created an artificial grass play mound with a polycarbonate dome, stepping stones, an HDPE (high density polyethylene) slide and a tunnel – going right through the middle!
The usual playground favourites also make an appearance in the infants' play area:
A double width stainless steel slide
 Scramble net
Climbing wall
Hexagrip platforms
A triple swing set comprising two senior swings and one tango swing
Springers
Paddington's sensory play space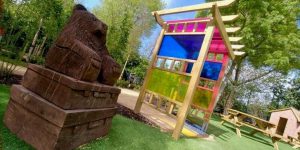 One of our key mantras is to make play accessible to everyone – sensory play spaces are a brilliant way for children to get hands on and bring all their senses to the fore.  The Paddington Recreation Ground sensory space has both kids and grownups in mind, with its pretty Perspex panelled pergola, sensory panels, and a textured and ramped footpath that's fully wheelchair- and pushchair-accessible.
Playing on the senses of touch and sound, the sensory play area helps children bring music to life, with a myriad of instruments:
A cadenza (similar to a xylophone)
A babel drum
Congas (hand drums)
Soprano pentatonic (freechimes)
The junior play area at Paddington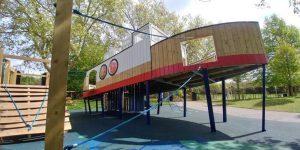 The star of the show in the junior play area is the steamliner ship, made lovingly in our workshop at Elvington near York and (very carefully!) transported to London for assembly on site.
The steamliner is a monster! It's 8.5 metres long with a powder-coated steel frame and has a 1.2m scramble net, a double-width stainless steel slide and its own mascot – a little bear on a suitcase sitting on the back of the ship.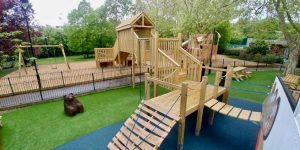 For a little extra feature, we've topped the steamliner chimneys with precision-cut steam clouds.
"How do we create cut-out clouds?" you might ask. Our in-house CNC machine is the answer – it means we can make all sorts of exacting designs a reality.
The ship sits on a colourful blue wet pour rubber surface – these are always super-popular, as they have some spring in them and work well even in the typical British Winter weather. The rubber surface at Paddington has some additional seafaring decoration too, with three turtles, a swordfish and a whale adding the aquatic touch! A clatter bridge links the steamliner to the 14-metre docklands area, which is full of more playground wonders including climbing wall, hexagrip ramp with timber rungs, galvanised chain and a fireman's pole. Completing the junior play area is a nest swing and a roll-on roll-off roundabout.
From here, we move onto the last of the four areas that make up Paddington Recreation Ground – the playground for teens.
Play area for teens at Paddington
The teens' playground encompasses the existing natural environment at Paddington, complete with several trees! We needed to be respectful of Tree Preservation (Orders), which led to a fair chunk of hand labour to securely build a massive 22.8m x 14m x 4.9m Robinia wood forest play unit. The unit wraps around and through the trees, and has a little visitor too: a cheeky bear climbing to the top of one of the poles!
We also moved and refurbished the existing zip wire, installed a 2.5 metre roundabout turntable, more swings and a four-seater see-saw.
Our clients at Paddington
We loved our work on the Paddington project, which we embarked upon after winning a competitive tender. The investment came from Westminster City Council, with some of the funding coming from their Community Infrastructure Levy fund. Our clients on this mammoth playground were Sports and Leisure Management (SLM) – known as Everyone Active – who manage Paddington Recreation Ground on behalf of Westminster City Council. Co-designer Ruth Willmott of Ruth Willmott Associates, is famed for her work as a garden designer and being a multi-award-winner at the Chelsea Flower Show. Throughout the project we worked closely with Ruth, Westminster Council and the Everyone Active General Manager, Cheyenne Green, to make sure our Playscheme bespoke playground design met their needs every step of the way.
The final touches of the project were the site signage and a visitor map. We're delighted with the end result, and seriously proud to see children of all ages enjoying this wonderful space!
We'd love to help you create a bespoke playground that will give children enjoyment year after year. Call us on 01904 607677 or email [email protected] to arrange a no obligation consultation.
For more information visit www.play-scheme.co.uk