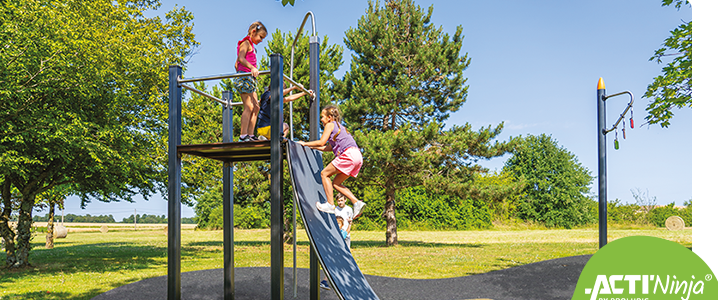 ---
---
Proludic is back in 2023 with plenty of new inspirations to share! This year we have introduced 30 new exclusive products to assist in taking your new play and sports areas to the next level.
Within our new, diverse 300-page catalogue we have crammed over 30 years of dedication and passion for delivering exceptional play and sports equipment, with inspirational exercise equipment and playground ideas to help you delight your communities this year!
Here are some key highlights for your consideration:
30 inspirational new products, including an ocean life-themed playground equipment that is high in play value offering a multiplatform experience:
The Whale.
Extension of our highly popular Origin' Robinia range to include large structures inspired by nature.
New ACTI'Fun products launched include the strikingly colourful and dynamic Ninja Trail activity equipment.
Additional Multiplay choices within our awarding-winning Diabolo ranges.
What better way to kick off this year than introducing your communities to an exercise concept that we guarantee will bring movement and smiles in abundance? Through our latest activity range called ACTI'Fun, and its three headline brands of ACTI'Ninja, ACTI'Street & ACTI'Fit; there is something for everyone to engage with. Find out more about this revolutionary concept here.
It certainly does not stop here for us as later this year we will be launching a dedicated sports inspired brochure that showcases our ranges in this space. We will also be launching a much anticipated inclusive brochure that encapsulates the many inclusive products we have developed with all children in mind regardless of their ability! We will be in touch with all our clients about these developments closer to the time!
The established team at Proludic has over 30 years of accumulated experience in the design, manufacture and installation of play structures and sports areas. As you can appreciate from this year's offering, innovation is a constant theme within the international group, making our products increasingly relevant to the consumer while standing out from the crowd. The creativity of our designers coupled with our world-class manufacturing facility, ensures we always achieve original and durable solutions for our clients.
Proludic is still family-owned by the same Chairman who established the company all those years ago. This is unlike so many of our direct competitors who are owned by private equity firms. This stability and continuity have allowed a family culture to permeate throughout our global operations where your satisfaction and product innovation are of paramount importance.
World Class Manufacturing
We manufacture and assemble all our products at our production facility in Vouvray located in the Loire Valley, France. We also continue to improve our products through our continuous product improvement process; observing trends and adapting to the needs of clients and users to inspire creativity. Moreover, by working closely with clients we can design playgrounds and sports facilities using feedback to create truly bespoke projects and value-adding play spaces; identifying the needs of our customers and how the spaces will be used.
As a Proludic client, you access the expertise of a dedicated project management team. This includes your own accessible Area Manager, a Customer Service Advisor and a skilled Designer or Landscape Architect who will guide you through the process of developing and installing your next dream playground. Their combined knowledge and expertise will ensure your needs will be carefully assessed and you will receive the highest level of customer service from initial project planning to the handover stage. Additionally, our Aftersales service and Maintenance team is here to support you through the lifetime of your Proludic outdoor playground equipment or sports area facilities.
So why don't you grow your play and sports areas with us in 2023? Take the first step by accessing our latest catalogues or by arranging a FREE site visit or Zoom call with your Area Manager, please contact our Customer Advisors on [email protected]