---
---
A very exciting time for us and everyone involved with Creative Play UK! We are proud to announce our Company's relocation from Chester, to a brand-new facility based within North Wales, a few miles down the road
As a family run business, we have worked closely with the Education, Leisure & Tourism and Local Authority sectors for more than 30 years, during this time we've created more than 14,000 outdoor play areas for more than 8,000 different customers across the UK.
Continued success and growth has allowed for the expansion into our new, state of the art, purpose-built premises. Our new facility provides additional capacity, more efficient manufacturing processes, and a more modern working environment, ensuring a higher quality service to all of our customers and a better place to work for our employees.
The new premises provides over 20,000 square feet of offices, manufacturing, distribution and storage facilities. More than double the size of our previous premises on Sealand Road, a significant change since our last business move in 1999!
Within our new facility we have more than 50 employees across Marketing, Sales, Design, Manufacture, Delivery, Project Management, Installation and Aftercare functions, ensuring our customers are looked after throughout the process of creating an amazing new playground.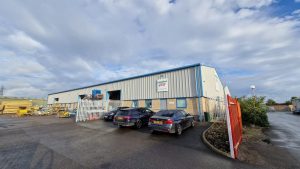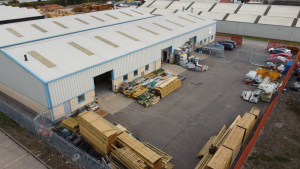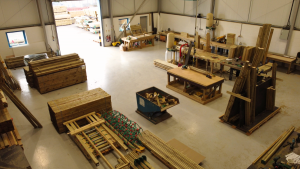 James Harris, the Managing Director says "This is a very exciting step for our company and will see considerable benefits for our employees and customers through improved efficiencies and production capacity".
"We're proud to be a UK manufacturer, with more than 95% of our materials and components sourced right here in the UK, and I'm particularly pleased to be moving the business back into Wales where the company has its original roots.
At the heart of the relocation, is the continuous drive to minimise our impact on the environment by reducing energy usage and creating a circular economy and investing in greener systems."
Sales and Marketing director David Esser added: "This is an exciting time for Creative Play. We are always looking at ways we can improve our business to provide high-quality outdoor playground equipment and educational learning environments. This amazing new office and production facility will allow us to work more efficiently ensuring even better customer service levels, reduced lead times and the ability to respond to our customers' demands quickly.
For more than 30 years, it has been our aim to create outstanding outdoor spaces for children. This considerable investment will ensure the continued growth of the business and see us work hand in hand with schools, local authorities and commercial customers for many years to come".
Learn more about Creative Play visit: www.creativeplayuk.com