---
---
The Association of Play Industries (API) celebrated its 35th anniversary at its Annual General Meeting and dinner at Ardencote Manor in the heart of Warwickshire.  The event on 2 May also included the API's inaugural golf event the following morning – a fun, competitive tournament for members of all abilities.
API Chair Mark Hardy, said: "In this our 35th year, we will continue to campaign and lobby at the highest levels for renewed and urgent investment in playgrounds.  The AGM is an opportunity to consider how far we've come and to plan for the future, and the dinner and golf event provided a great chance to network and catch up with industry colleagues. A huge thank you to our members for their continued support.
"The recent Nowhere To Play and Movement for Movement campaigns and research have shown not only that there is a steep decline in playground provision, but that children also face a strong inducement from screens to stay indoors.
"So we are working on some exciting new communications activities over the coming year to stimulate renewed investment in playgrounds and promote the health and wellbeing of children."
Members welcomed Rob Baker, Mark Grace, Charlie Howard, Helen Jones, Steve Sylvester, Mark Wood and Bill Worthington for a further two-year term on the Executive Committee.
At this year's AGM dinner, £300 was raised for this year's chosen charity Young Minds.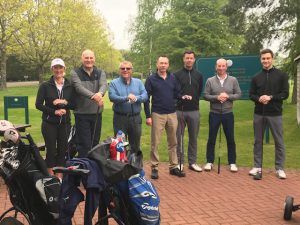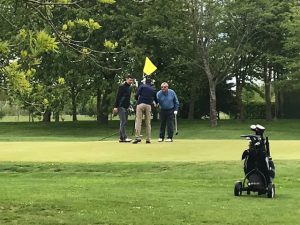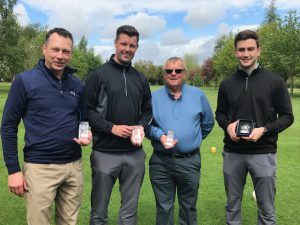 Header Image: Rob Baker, Helen Jones, Mark Hardy, Nick Palmer, Deborah Holt, Calvin Dalais, Robin Sutcliffe.
Golf Images: Vicki Braithwaite, Mark Hardy, Ray Parry, James Gowans, Graham Scott, Graham Braithwaite, Jake Scott.